The Global Assessment of Bamboo and Rattan (GABAR) was launched on September 7 at the World Forestry Congress 2015 in Durban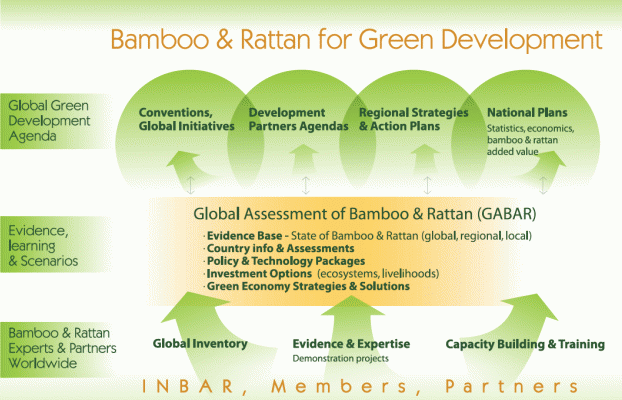 At the special GABAR launch session, a panel of 14 senior policy makers, including five Ministers, made statements of support for GABAR and detailed contributions that their countries are making for bamboo and rattan development. Opening keynote addresses were delivered by HE Zhang Jianlong, Minister of State Forestry Administration, People's Republic of China, INBAR's Host Country, and HE Nii Osah Mills, Minister of Lands and Natural Resources, Ghana, the Vice-Chair of the INBAR Council.
Agenda - GABAR launch:
Welcome, Dr Li Zhiyong, Deputy Director General, INBAR.
Presentation of GABAR, Dr Hans Friederich, Director General, INBAR.
Key note address, China, INBAR Host Country, HE Zhang Jianlong - Minister of State Forestry Administration.
Key note address, Ghana, Vice-Chair of INBAR Council, HE  Nii Osah Mills - Minister of Lands and Natural Resources.
Key note address, Cameroon, HE Ngole Philip Ngwese - Minister of Forests and Wildlife.
Statement, Indonesia , Dr. Hadi Daryanto Representative - Ministry of Forests and Environment.
Statement, Liberia, Dr Harrison Karnwea - Managing Director of Forestry Development Authority.
Statement, Vietnam, Mr Nguyen Tuong Van - Deputy Director, Department of Science, Technology and International Cooperation, Vietnam Administration of Forestry.
Statement, FAO, Dr Kenneth MacDicken - Senior Forestry Officer/Team Leader.
Statement, UNEP, Ms Mette Wilkie - Director, Division of Environmental Policy Implementation.
Statement, the World Bank, Dr Gerhard Dieterle - Advisor, Cross-cutting Solutions Area.
Statement, CIFOR, Dr Peter Holmgren - Director General.
Closing, Dr Maharaj Muthoo - Chair of the Board of Trustees, INBAR.
More information on GABAR:
On the web - Follow the GABAR consultation on the web on the INBAR@WFC live reporting page and news page.
Read the GABAR brochure here.
For more information about GABAR - visit the GABAR web page.
GABAR is a partnership between INBAR and its 41 Member States, and a range of national and international partners. All interested organizations are welcome to join - as core partners, technical partners or to provide in-kind support or funding.
Watch this space for updates of attendance and launch agenda.