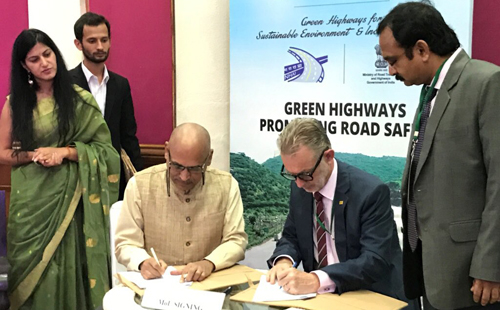 A three day national convention on "Innovations in Green Highways" was held in New Delhi from November 7- 9, 2016. The convention organized by National Green Highways Mission, National Highways Authority of India, Ministry of Highways & Transport, aimed at identifying the outcomes and action points to take the concept of green highways further and extend it to green pathways (roadways, railways and waterways).
Under the aegis of Green Highways Policy, NGHM is mandated to plan, implement and monitor green corridors development along upcoming and existing National Highways. For effective implementation of the Green Highways Program, NGHM intends to adapt global best practices, undertake new research, test innovations as pilot projects and further replicate them on larger scale. The Green Highways Program is being implemented across diverse landscapes of India with the long term objective to build sustainable green highways capable in adapting and mitigating global warming and climate change effects.
Chief Guest Hon Mansukh L Mandaviya, Minister of State, Ministry of Road Transport, Highways and Shipping  addressed the participants during the inaugural address appreciated the initiative and expressed his full support.
INBAR's Director General, Dr. Hans Friederich as the Guest of Honor delivered the keynote speech during the convention and assured full cooperation by providing its unique expertise and network of experts and also told that he envisages that the bamboo component of the National Green Highways Mission would be an integral part of the national bamboo development plans He also added that, "This is a very good moment to take stock and to agree on the next steps."